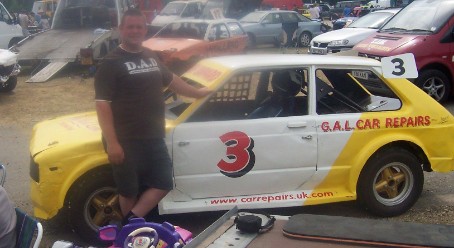 ABOVE: MYSELF WITH ONE OF MY FRIEND'S OLD STOCK CARS
I STARTED AT FORGE GARAGE IN 1990 AND AND WENT TO COLLEGE TO GAIN MY CITY & GUILDS.
IN 1994 I BECAME AN MOT TESTER.
I LEFT THE GARAGE IN OCT 1995 AND WENT TO WORK FOR THE AA.
I WAS A PATROLMAN FOR NEARLY 15 YEARS BEFORE I LEFT TO START ALANS AUTOS.
PLEASE CHECK OUT MY OLD BOSS' WEB PAGE, HE WAS THE OWNER OF FORGE GARAGE FOR OVER 31 YEARS .